Introductory CD
Introductory CD (1 hour long)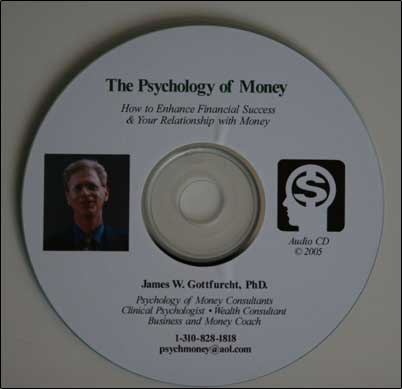 Price:
$19
Add to Shopping Cart
USA Shipping Charge:

FREE US Standard Flat Rate Shipping
This single CD is the best introduction to Psychology of Money's proprietary work.
It runs for almost one hour and features:
A CNBC Interview by Dr. Gottfurcht about how money influences people.


A definition and explanation of the Psychology of Money.
How childhood experiences affect adult financial behavior.
The power of both Prosperity Thinking and Poverty Thinking.
What inspired Dr. Gottfurcht at age nine to develop Psychology of Money.
The importance of taking small actions steps to attain your financial goals.
The major causes of financial stress.
The Meaning of Money Exercise and how to understand it.
Definitions and examples of Prosperity and Poverty Thinking.
The story of Carlos and Burt and the surprising financial lessons it reveals.

Testimonials
Dr. Jim Gottfurcht delivered a dynamic and uplifting presentation at the Financial Planning Association. His insights and proprietary techniques for guiding clients through tough times are as reassuring as they are effective. As President of FPA-LA and as a wealth manager myself, I appreciate and value his guidance in my own client practice.
Eric Bruck
Principal, Silver Oak Wealth Advisors, LLC
Dr. Gottfurcht is a consummate professional. One of the greatest challenges planners face is getting our clients to open up and tell us what they really want. Dr. Gottfurcht's experiential teaching style makes it easy to learn and develop new skills in an "ah ha" moment of time. Moreover, using the foundational questions helps the planner understand, quickly, how clients want to enjoy and co-create their planning experience. I highly recommend Dr. Gottfurcht to any organization seeking to benefit from his 35 years of experience and research on the psychology of money.
Neal Van Zutphen
MCFP®, M.S.
Email Newsletter


Sign Up for the FREE Email Newsletter
Media / Keynote Talks


Watch video clips on YouTube