Adrenaline into Money 6 CD Set
Turn Adrenaline into Money 6 CD Set


These days it's easy to get your adrenaline pumping about your money concerns, your job, business, retirement and family's financial challenges!
That adrenaline flow usually comes from stress, fear, and anger – and these feelings could be hurting you in more ways than you realize! If not handled properly, all that powerful energy can produce financial fallout, strained relationships, and burnout.
Put bad feelings to good use

Imagine taking the power of all that adrenaline and redirecting it into a positive force… actually freeing yourself financially, improving relationships and behaving more rationally. You can do just that with the powerful tools you'll get from "Turn Adrenaline into Money".
You can learn valuable lessons that can affect your life in profoundly positive ways:
Using Psychology of Money to reduce financial fear and loss
Increasing Prosperity Thinking and financial empowerment
Developing mind-body awareness to turn financial stress and anger into abundance
Identifying and controlling anger triggers
Freeing yourself from money traps
In 'Turn Adrenaline into Money" you'll do more than just listen, you'll take action! You'll participate in stimulating exercises and learn easy-to-apply tools too.
This 6 CD Set can make an enormous difference in helping you create the prosperous life you've always wanted.
Price:
$99

Add to Shopping Cart
USA Shipping Charge:

FREE US Standard Flat Rate Shipping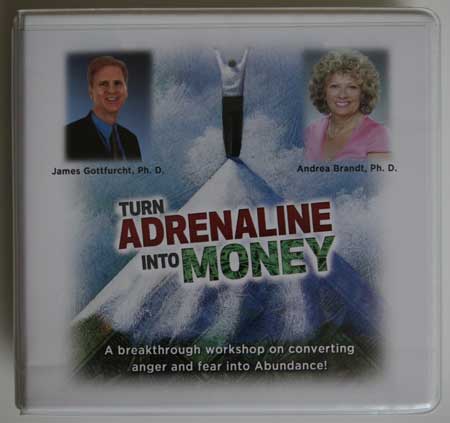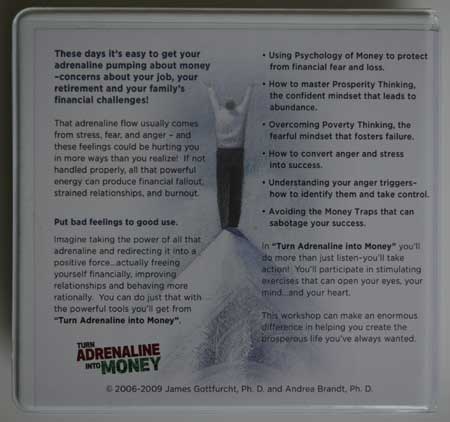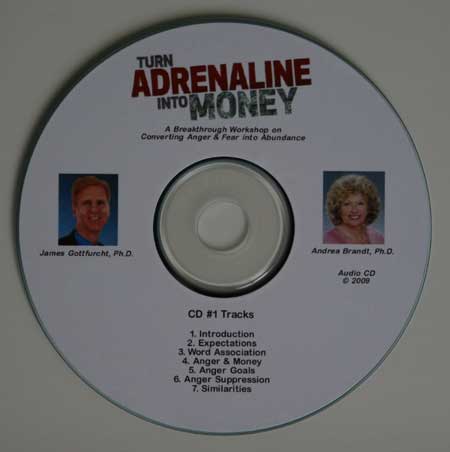 Testimonials
Your presentation gave them invaluable real-life examples of simple, but effective strategies they can use to control their negative emotional reactions to stressful events. The explanation of Prosperity Thinking vs. Poverty Thinking will no doubt stay in their consciousness and give them perspective when they feel overwhelmed by the tidal wave of bad news that bombards us on a daily basis.
Dion M. Collins, CFP
Collins Advisory - Fullerton, CA
Dr. James Gottfurcht is a superb teacher of empathy. I have been fortunate to have taken some of his courses, and my life has been enriched. If this were Amazon.com or Trip Advisor, I would give Dr. Gottfurcht's courses five stars.
Sheldon Wolf, M.D.,
Los Angeles, CA
Email Newsletter


Sign Up for the FREE Email Newsletter
Media / Keynote Talks


Watch video clips on YouTube