Psychology of Money 6 CD Set
Six CD Recordings and Workbook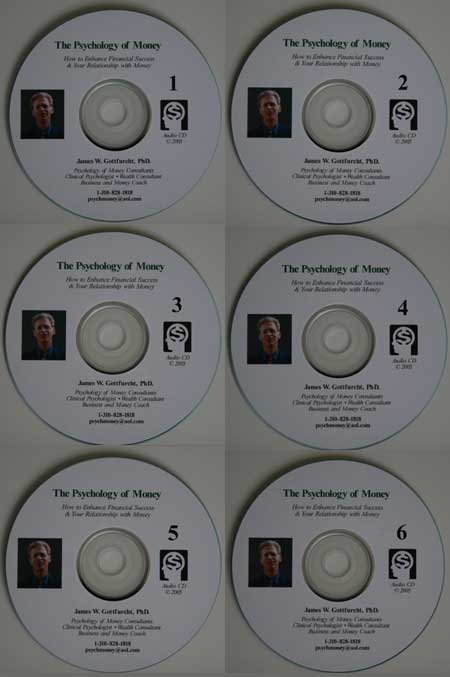 Price:
$99

Add to Shopping Cart
USA Shipping Charge:

FREE US Standard Flat Rate Shipping
This Six CD Recordings and Workbook of 'The Psychology of Money Workshop', includes the best of the live one-day Workshop, the Introductory CD, new material and Exercises and a Companion 32 page Workbook
In addition learn how to:
Create a safe, supportive environment to explore your Prosperity and Poverty Thinking
Understand which of your thoughts, feelings and behaviors are based on a Prosperity vs. Poverty mindset and how to translate this into increasing your wealth
Employ the Personalized Meaning of Money Exercise to understand how it influences your financial beliefs, attitudes, expectations goals and behavior
Determine what causes your financial stress and how to reduce it
Select the Psychological Money Issues most important for you to resolve.
Develop five key Psychological Money Skills to increase financial success
See the ways you can sabotage yourself with six Psychological Money Traps and how to navigate them successfully
Select and nurture Prosperity Thinking relationships to enhance your quality of life
Create and implement your own personalized accountability program of weekly, monthly, and annual follow-up goals
Apply these skills to your clients, colleagues, friends and family members.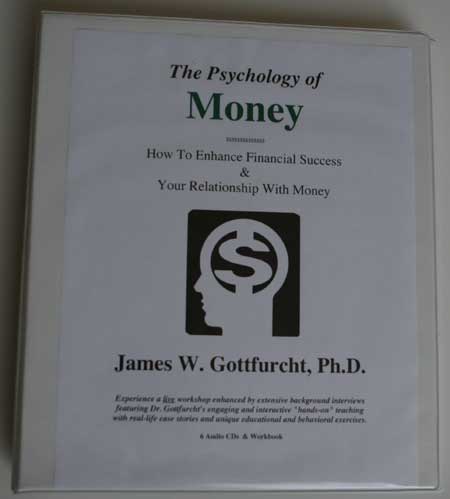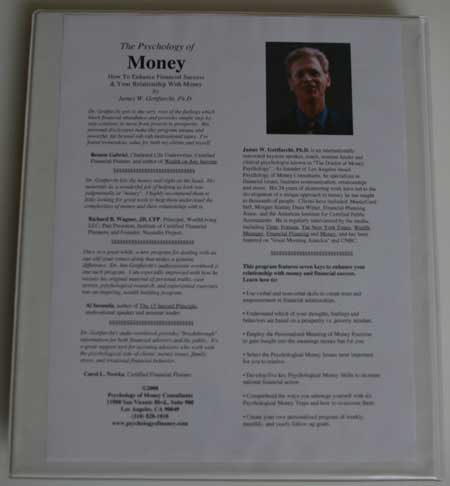 Price:
$99

Add to Shopping Cart
USA Shipping Charge:

FREE US Standard Flat Rate Shipping
Testimonials
Thank you so much for your wonderful and inspiring lecture. The membership was very impressed by your body of knowledge and are already requesting your return at a future meeting. You had a wonderful way of bringing us hard facts rapped with your incredible sense of humor.
Antonia N. Ludwig
MFCC - First Vice President, CAMFT- Los Angeles, CA
Dr. Gottfurcht has been instrumental in helping me develop my coaching practice, eliminate obstacles that were keeping me stuck, and polish my skills. His encouragement, honest feedback, and depth of knowledge gave me the enthusiasm and confidence I needed to obtain the results I wanted.
Claudia Franzosi
MA, MFT - President/CEO, Center for Success Strategies - San Diego, CA
Email Newsletter


Sign Up for the FREE Email Newsletter
Media / Keynote Talks


Watch video clips on YouTube