Psychology of Money 6 CD Set
Six CD Recordings and Workbook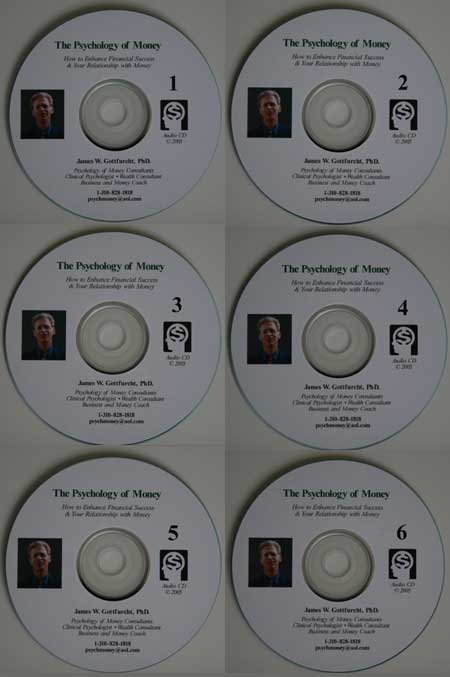 Price:
$99

Add to Shopping Cart
USA Shipping Charge:

FREE US Standard Flat Rate Shipping
This Six CD Recordings and Workbook of 'The Psychology of Money Workshop', includes the best of the live one-day Workshop, the Introductory CD, new material and Exercises and a Companion 32 page Workbook
In addition learn how to:
Create a safe, supportive environment to explore your Prosperity and Poverty Thinking
Understand which of your thoughts, feelings and behaviors are based on a Prosperity vs. Poverty mindset and how to translate this into increasing your wealth
Employ the Personalized Meaning of Money Exercise to understand how it influences your financial beliefs, attitudes, expectations goals and behavior
Determine what causes your financial stress and how to reduce it
Select the Psychological Money Issues most important for you to resolve.
Develop five key Psychological Money Skills to increase financial success
See the ways you can sabotage yourself with six Psychological Money Traps and how to navigate them successfully
Select and nurture Prosperity Thinking relationships to enhance your quality of life
Create and implement your own personalized accountability program of weekly, monthly, and annual follow-up goals
Apply these skills to your clients, colleagues, friends and family members.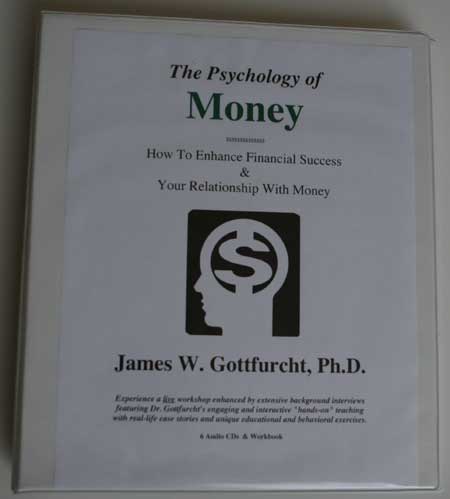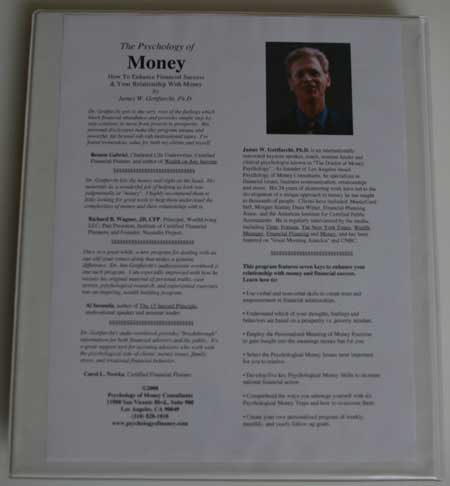 Price:
$99

Add to Shopping Cart
USA Shipping Charge:

FREE US Standard Flat Rate Shipping
Testimonials
Here is a comment I received from a coaching client who participated in a Psychology of Money Profile feedback session: "I learned more about my husband in 2 hours with Dr. Jim than I have in the 40+ years we have been married."
Sherry Hazan-Cohen
CFP - NAPFA, Registered Financial Advisor, Lifestyle Coach - Plano, TX
Dr. James Gottfurcht is a superb teacher of empathy. I have been fortunate to have taken some of his courses, and my life has been enriched. If this were Amazon.com or Trip Advisor, I would give Dr. Gottfurcht's courses five stars.
Sheldon Wolf, M.D.,
Los Angeles, CA
Email Newsletter


Sign Up for the FREE Email Newsletter
Media / Keynote Talks


Watch video clips on YouTube