Introductory CD
Introductory CD (1 hour long)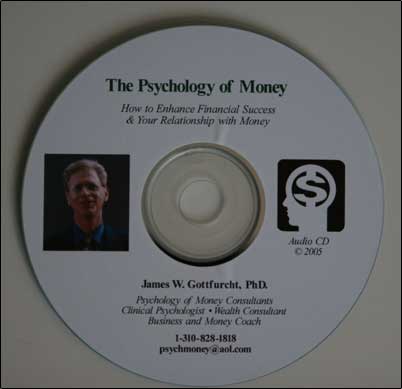 Price:
$19
Add to Shopping Cart
USA Shipping Charge:

FREE US Standard Flat Rate Shipping
This single CD is the best introduction to Psychology of Money's proprietary work.
It runs for almost one hour and features:
A CNBC Interview by Dr. Gottfurcht about how money influences people.


A definition and explanation of the Psychology of Money.
How childhood experiences affect adult financial behavior.
The power of both Prosperity Thinking and Poverty Thinking.
What inspired Dr. Gottfurcht at age nine to develop Psychology of Money.
The importance of taking small actions steps to attain your financial goals.
The major causes of financial stress.
The Meaning of Money Exercise and how to understand it.
Definitions and examples of Prosperity and Poverty Thinking.
The story of Carlos and Burt and the surprising financial lessons it reveals.
Testimonials
Your presentation gave them invaluable real-life examples of simple, but effective strategies they can use to control their negative emotional reactions to stressful events. The explanation of Prosperity Thinking vs. Poverty Thinking will no doubt stay in their consciousness and give them perspective when they feel overwhelmed by the tidal wave of bad news that bombards us on a daily basis.
Dion M. Collins, CFP
Collins Advisory - Fullerton, CA
Bar none...the work that we did last year was the best thing I did for myself... Our sessions have had a major impact on my life... I see differences in the way other people are coached. For me, you are the right coach... Consider me one of your success stories.
Roberta Lee-Driscoll, CFP
Honolulu, HI
Email Newsletter


Sign Up for the FREE Email Newsletter
Media / Keynote Talks


Watch video clips on YouTube