Introductory CD
Introductory CD (1 hour long)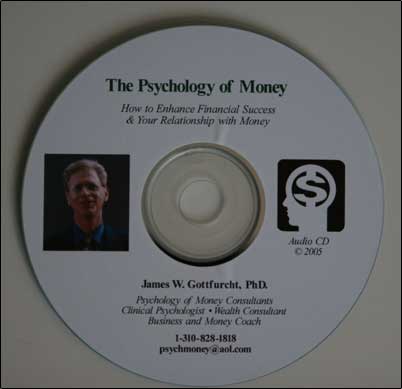 Price:
$19
Add to Shopping Cart
USA Shipping Charge:

FREE US Standard Flat Rate Shipping
This single CD is the best introduction to Psychology of Money's proprietary work.
It runs for almost one hour and features:
A CNBC Interview by Dr. Gottfurcht about how money influences people.


A definition and explanation of the Psychology of Money.
How childhood experiences affect adult financial behavior.
The power of both Prosperity Thinking and Poverty Thinking.
What inspired Dr. Gottfurcht at age nine to develop Psychology of Money.
The importance of taking small actions steps to attain your financial goals.
The major causes of financial stress.
The Meaning of Money Exercise and how to understand it.
Definitions and examples of Prosperity and Poverty Thinking.
The story of Carlos and Burt and the surprising financial lessons it reveals.
Testimonials
As a fellow-instructor, I admired your course content and structure. In only one day, you led us step-by-step into confronting our barriers to prosperity and then into discovering solutions to our financial challenges.
Pamela Kelly
Communications Consultant - Redondo Beach, CA
I found the Psychology of Money Profile to be very enlightening and would strongly recommend it. Simply answering the questions causes one to concretely think about one's views and beliefs concerning money. The real benefit comes from obtaining the interpretation of the results from Dr. Gottfurcht.

Pamela Ann Thatcher
Attorney at Law - Corona, CA
Email Newsletter


Sign Up for the FREE Email Newsletter
Media / Keynote Talks


Watch video clips on YouTube