Introductory CD
Introductory CD (1 hour long)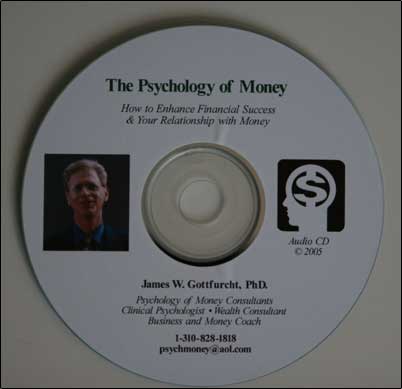 Price:
$19
Add to Shopping Cart
USA Shipping Charge:

FREE US Standard Flat Rate Shipping
This single CD is the best introduction to Psychology of Money's proprietary work.
It runs for almost one hour and features:
A CNBC Interview by Dr. Gottfurcht about how money influences people.


A definition and explanation of the Psychology of Money.
How childhood experiences affect adult financial behavior.
The power of both Prosperity Thinking and Poverty Thinking.
What inspired Dr. Gottfurcht at age nine to develop Psychology of Money.
The importance of taking small actions steps to attain your financial goals.
The major causes of financial stress.
The Meaning of Money Exercise and how to understand it.
Definitions and examples of Prosperity and Poverty Thinking.
The story of Carlos and Burt and the surprising financial lessons it reveals.
Testimonials
Dr. Gottfurcht has been instrumental in helping me develop my coaching practice, eliminate obstacles that were keeping me stuck, and polish my skills. His encouragement, honest feedback, and depth of knowledge gave me the enthusiasm and confidence I needed to obtain the results I wanted.
Claudia Franzosi
MA, MFT - President/CEO, Center for Success Strategies - San Diego, CA
Dr. Jim Gottfurcht delivered a dynamic and uplifting presentation at the Financial Planning Association. His insights and proprietary techniques for guiding clients through tough times are as reassuring as they are effective. As President of FPA-LA and as a wealth manager myself, I appreciate and value his guidance in my own client practice.
Email Newsletter


Sign Up for the FREE Email Newsletter
Media / Keynote Talks


Watch video clips on YouTube