Introductory CD
Introductory CD (1 hour long)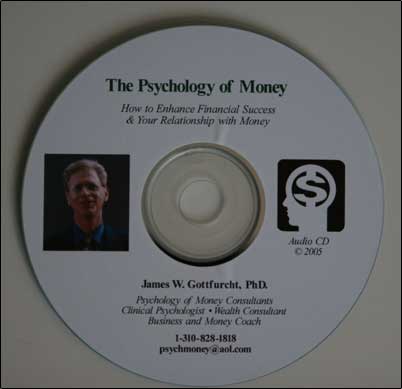 Price:
$19
Add to Shopping Cart
USA Shipping Charge:

FREE US Standard Flat Rate Shipping
This single CD is the best introduction to Psychology of Money's proprietary work.
It runs for almost one hour and features:
A CNBC Interview by Dr. Gottfurcht about how money influences people.


A definition and explanation of the Psychology of Money.
How childhood experiences affect adult financial behavior.
The power of both Prosperity Thinking and Poverty Thinking.
What inspired Dr. Gottfurcht at age nine to develop Psychology of Money.
The importance of taking small actions steps to attain your financial goals.
The major causes of financial stress.
The Meaning of Money Exercise and how to understand it.
Definitions and examples of Prosperity and Poverty Thinking.
The story of Carlos and Burt and the surprising financial lessons it reveals.
Testimonials
Thank you for presenting at the 2011 FPA Annual Conference. You did a great job...Your content was excellent, your delivery was effective, and the experiential exercises you facilitated helped the participants get plenty of take-home value.
Bill Bachrach, Ph. D.
CSP, CPA, - San Diego, CA
Dr. Gottfurcht created such a safe environment for the people to share their thoughts and feelings that I had meaningful connections with many people in the class. It has significantly improved my communication with my wife, my children, my friends, and the people I work with. This empathy class is highly valuable for people of all levels of ability of communication.
Michael Sather
Senior Project Leader, American Honda, Torrance, CA
Email Newsletter


Sign Up for the FREE Email Newsletter
Media / Keynote Talks


Watch video clips on YouTube