Introductory CD
Introductory CD (1 hour long)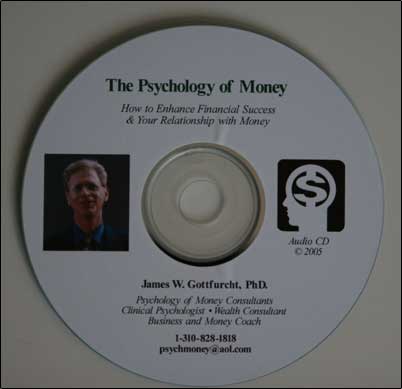 Price:
$19
Add to Shopping Cart
USA Shipping Charge:

FREE US Standard Flat Rate Shipping
This single CD is the best introduction to Psychology of Money's proprietary work.
It runs for almost one hour and features:
A CNBC Interview by Dr. Gottfurcht about how money influences people.


A definition and explanation of the Psychology of Money.
How childhood experiences affect adult financial behavior.
The power of both Prosperity Thinking and Poverty Thinking.
What inspired Dr. Gottfurcht at age nine to develop Psychology of Money.
The importance of taking small actions steps to attain your financial goals.
The major causes of financial stress.
The Meaning of Money Exercise and how to understand it.
Definitions and examples of Prosperity and Poverty Thinking.
The story of Carlos and Burt and the surprising financial lessons it reveals.
Testimonials
I was impressed that you were able to communicate such a significant amount of material in a series of building blocks that were stimulating and easy for the coaches to learn. Also, your empathic style and sharing of some of your own experiences created a safe and trusting atmosphere from the beginning.
Jeff Auerbach, Ph.D.
Founder, College of Executive Coaching - Ventura, CA
Your empathy training workshop was outstanding. You are a fantastic presenter and your material was rich with information. You have made me a better clinician, and I am grateful.
Daniel Franklin, Ph. D.
President, Franklin Educational Services, Los Angeles
Email Newsletter


Sign Up for the FREE Email Newsletter
Media / Keynote Talks


Watch video clips on YouTube